C2C Cruises - Cruise from Tilbury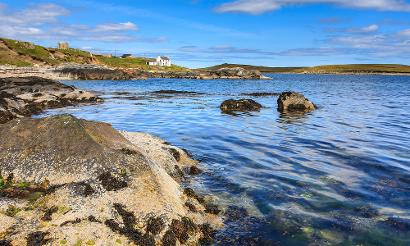 Grand Scottish Highlights, Islands & Faroes Cruise

Explore the Orkneys, the Shetlands, the Faroes and Scotland
Join us on board Astoria for a cruise full of northern delights. You'll sail to remote outposts, full of enchanting natural & fascinating legends. Calls are made at a quintet of contrasting and scenic Scottish Isles, as well as in the Danish Faroes.
10 days from £879*
Departing: April 2018 * Price shown: 03 April 2018
SAVE UP TO 30%! PLUS...
BUY ONE, GET ONE HALF-PRICE UNTIL 31ST OCTOBER*
What The Price Includes
9 nights' accommodation in your choice of cabin
Full-board arrangements including full breakfast, lunch, dinner, afternoon tea and midnight snacks
On-board entertainment as arranged
Calls at ports as detailed in the itinerary
The services of a friendly, professional crew and cruise staff
Port charges and taxes
Single and upgrade cabins are available for a supplement
Ship Information
Beautiful, 550-passenger Astoria is every inch the perfect cruise vessel. Originally a transatlantic liner, now restored and lovingly maintained as a premium-rated cruise ship, Astoria is both small enough to offer a friendly atmosphere, and large enough to offer a relaxed environment to ensure your holiday enjoyment. She's every inch the perfect home from home for your memorable cruise holiday.
Discover life on board Astoria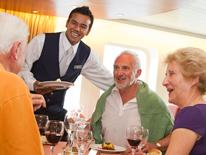 Cruise Information
The greatest pleasure of a cruise holiday is the knowledge that as each day dawns, there'll be a new adventure to enjoy, a new experience to savour.
Ports of call
Day One - Depart London Tilbury, UK 1500 hrs
Day Three - Kirkwall, Orkney Isles
Day Four - Torshavn, Faroes
Day Five - Klaksvik, Faroes
Day Six - *Lerwick, Shetland Isles
Day Seven - Invergordon, Scotland
Day Eight - Rosyth (for Edinburgh), Scotland
Day Ten - Arrive in London Tilbury, UK 0700 hrs

N.B. All days not listed are spent at sea enjoying the excellent facilities aboard Astoria. Please see the Full Itinerary for details. Ports marked with an asterisk will be reached by landing boat and may be inaccessible for customers with mobility difficulties.



Full Itinerary
Day 1
Board Astoria to cruise north from Tilbury. Settle into your cabin and enjoy your first dinner on board.
Day 2
Relax on board the ship as Astoria cruises to the Scottish islands.
Day 3
Today, Astoria cruises to Kirkwall, the historic capital of Orkney. Perhaps visit its magnificent centrepiece, St Magnus Cathedral. A mile away are the waters of fabled Scapa Flow, where HMS Royal Oak sunk in WW2. Optional shore excursions will include highlights of the island's unique mix of history, archaeology, crafts and wildlife.
Day 4
Astoria's next call is Toytown-like Torshavn, capital of the remote Faroe Islands. Here you might wander the confusion of lanes and narrow passages, or join an excursion to other parts of the islands, perhaps crossing the famous Bridge across the Atlantic (which connects main island Streymoy with the spectacular scenery of smaller Eysturoy).
Day 5
After leaving Torshavn this morning, Astoria makes a rare call in Klaksvik, capital of the Nordoyar (the six northeasternmost Faroe Isles). Many of the inhabitants of this remote Danish outpost are direct descendants of the Vikings, and still speak an ancient Norse language. Sheltered by conical mountains, Klaksvik is surrounded by a birdwatcher's paradise of green meadows that you'll be able to explore on today's optional shore excursion
.
Day 6
Lerwick, the Shetland Islands' rugged capital, is another gateway to an ancient land of legend, traditional crafts and an incredible abundance of bird life. Discover the town, or join the optional excursion to the 3,000 year-old archaeological site at Jarlshof, with its Bronze and Iron Age remains.
Day 7
This morning Astoria sails into Cromarty Firth on Scotland's rugged East Coast. The ship ties up in Invergordon, one of Britain's greatest natural harbours, where you can step ashore to explore. You might choose to take a shore excursion, perhaps to Inverness, with famous Loch Ness beyond. Golfers might head to nearby Dornoch, home to one of the world's finest courses, while whisky connoisseurs might head to the celebrated Ord Distillery.
Day 8
Astoria's final port of call will be Rosyth, from where you can join an optional excursion to Edinburgh. Wander along the beautiful, historic streets of Scotland's capital, and see the famous castle or Holyrood Palace.
Day 9
Enjoy your last, relaxing day enjoying the ship's amenities as Astoria heads for home.
Day 10
Arrive in Tilbury, and bid farewell to the crew and your fellow travellers before you disembark at the end of your cruise holiday.
Further Information
Passport requirements
British Citizens will need a full, 10-year passport to travel on this cruise. Since some countries require visitors to be valid for at least six months after the return date of the cruise we recommend that all customers ensure that this is the case. Holders of non-British passports should check with the relevant embassies to see if any requirements and restrictions exist for any countries visited during the cruise.
*These offers apply to new bookings made between 1st August and 31st October 2017 (inclusive) only. The price shown on this page includes any initial Saver Fare discount, but not the Buy One, Get One Half-Price discount. The exact value of the discount included will vary depending on offer, cruise, cabin and departure date selected. Discounts apply to all cabin categories. On cruises with a Buy One, Get One Half-Price offer, single cabin full fares will be discounted by 25 per cent. On cruises with a Buy One, Get One Free offer, single cabin full fares will be discounted by 50 per cent. These offers may be withdrawn at any time. All fares exclude gratuities.

On many of our cruises, a limited number of Voyager Fare Inner and Ocean-view cabins are available. Choose these and you will be accommodated in at least a Standard Twin Inner or Ocean-view cabin, but will pay only the reduced Voyager Fare price. Availability is limited, so book now to secure your discount.
View more Cruises from Tilbury
C2C Cruises act as ABTA Retail agents for both Cruise and Maritime Voyages, and Newmarket Travel who are the operators of this trip





www.c2ccruises.com, www.c2ccruises.co.uk, www.ctccruises.com, www.ctccruises.co.uk