A-Rosa River Cruises 2018/19
A-ROSA
A-ROSA River Cruises offers sophisticated, feel-good holidays, a diverse programme of leisure activities and luxurious facilities on board of its fleet.
All vessels are equipped with spacious cabins, an extensive sun deck with Outdoor Bar & BBQ Area, Lounges, Restaurants and our unique professional SPA-ROSA with Sauna, Gym and St. Barth's beauty treatments.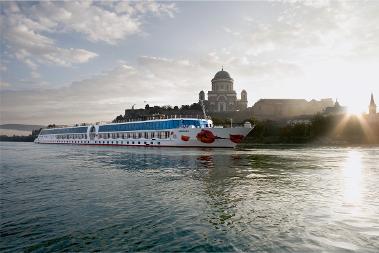 A-ROSA River Cruises
A river cruise on board A-ROSA is the most wonderful way to unwind, leave everyday behind and experience the most beautiful corners of Europe along the Danube, Rhine, Rhône and Seine. Cruising on a river is certainly not the fastest mode of transportation – but that is precisely what we want to give our guests: a little time to slow down and relax, while taking in the breath-taking riverscape.
Our guests can make themselves comfortable in their cosy outside cabin or simply daydream in SPA-ROSA with a sauna, fitness or beauty treatment. They can enjoy the ever-changing panorama on the extensive sun deck. Every day, culinary surprises with regional and seasonal specialties are awaiting them from our buffet with its live cooking station. And during one of our many stops, they will have plenty of time to get to know the country better. Welcome on board A-ROSA!
Ships: A fleet of 11 ships
Key Rivers/Destinations: Danube, Rhine/Main/Moselle, Rhône/Saône, Seine
Premium all inclusive – the all-around carefree package
The following services are included during an A-ROSA River Cruise:
FullBoardPlus – breakfast, lunch and dinner buffet, embarkation snack, coffee and cake in the afternoon, barbecue on the sun deck (weather-dependent) and much more
Fully flexible dining arrangements - No allocated tables and generous opening times
High-quality non-alcoholic and alcoholic beverages throughout the day
15% discount on SPA-treatments
LATEST YOUTUBE VIDEO FROM A-ROSA
Please ring us to discuss your needs on any type of Cruise on 01304 764 764 to speak to one of our Cruise Experts.
River Cruise Destinations
Danube

Rhine

Main

Moselle

Rhône

Saône

Seine








www.ctccruises.co.uk / www.ctccruises.com / www.c2ccruises.co.uk / www.c2ccruises.com / www.total-cruise.co.uk /

We act as Retail Agents for many Atol Holders (Cruise Operator), or Principal using Atol 5279 when we tailor-make your Cruise.
Page last updated 01/01/18