C2C Cruises - Cruise from Tilbury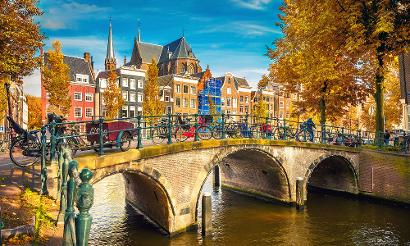 European Rivers, Canals & Cities Cruise

Historic waterways and European cities
Journey along some of Europe's greatest rivers and canals to some fascinating, historic cities. Explore colourful Amsterdam, and Bremen's delightful old town. Visit Hamburg, "wonderful" Copenhagen, pretty little Aalborg and the little-known resort of Kristiansand on the southern tip of Norway.
10 days from £879*
Departing: March 2018 * Price shown: 25 March 2018
SAVE UP TO 30%! PLUS...
BUY ONE, GET ONE HALF-PRICE UNTIL 31ST OCTOBER*
What The Price Includes
9 nights' accommodation in your choice of cabin

Full-board arrangements including full breakfast, lunch, dinner, afternoon tea and midnight snacks

On-board entertainment as arranged

Calls at ports as detailed in the itinerary

The services of a friendly, professional crew and cruise staff

Port charges and taxes
Single and upgrade cabins are available for a supplement
Ship Information
Beautiful, 550-passenger Astoria is every inch the perfect cruise vessel. Originally a transatlantic liner, now restored and lovingly maintained as a premium-rated cruise ship, Astoria is both small enough to offer a friendly atmosphere, and large enough to offer a relaxed environment to ensure your holiday enjoyment. She's every inch the perfect home from home for your memorable cruise holiday.
Discover life on board Astoria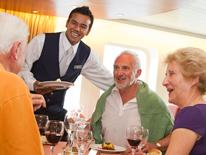 Cruise Information
The greatest pleasure of a cruise holiday is the knowledge that as each day dawns, there'll be a new adventure to enjoy, a new experience to savour.
Ports of call
Day One - Depart London Tilbury, UK 1530 hrs

Day Two - Amsterdam, Netherlands and the Ijmuiden Canal

Day Three - The River Weser and Bremen, Germany

Day Four - The River Elbe and Hamburg, Germany

Day Five - Kiel Canal Transit

Day Six - Copenhagen, Denmark

Day Seven - Aalborg, Denmark

Day Eight - Kristiansand, Norway

Day Ten - Arrive in London Tilbury, UK 0800 hrs

N.B. All days not listed are spent at sea enjoying the excellent facilities aboard Astoria. Please see the Full Itinerary for details. Ports marked with an asterisk will be reached by landing boat and may be inaccessible for customers with mobility difficulties.
Full Itinerary
Day 1
Make your way to London Tilbury to board Astoria. You'll sail early this evening and enjoy your first dinner on board. Get to know the cruise staff and some of your fellow passengers before you retire to your comfortable cabin.
Day 2
This morning Astoria sails up the Ijmuiden Canal to Amsterdam. Spend the day wandering the cobbled canal-side streets of this city of waterways, flower markets and renowned museums, and perhaps take to the water on a canal cruise or a self-pedalled canal 'bike'. You'll also have the opportunity to join our optional excursion to the gardens at Keukenhof before you return to the ship.
Day 3
After a day spent cruising along the gentle curves of the River Weser, Astoria arrives in the historic city of Bremen, home to magnificent St Peter's Cathedral and exquisite, UNESCO-listed Market Square. Join the shore excursion into the city to spend your day exploring the narrow, cobbled streets of the Schnoor, the oldest in the city.
Day 4
Today Astoria cruises into the mouth of the River Elbe and docks in the great German port-city of Hamburg. Head ashore to soak up the atmosphere of this vibrant metropolis, or enjoy an evening on board before Astoria sets sail late tonight.
Day 5
This morning Astoria will make her transit of the Kiel Canal, which connects the Baltic with the North Sea, saving over 250 miles' sailing around Denmark.
Day 6
Stylish Copenhagen, home to the famous Tivoli Gardens, and forever associated with Hans Christian Andersen, is our next port of call. Despite its reputation as a young and thriving metropolis, its actually one of Europe's oldest cities, with a rich history reflected in its splendid buildings and ancient streets.
Day 7
Astoria's second Danish port is Aalborg, set next to the Limfjord. Explore the delightful old town's 17th-century castle and painted buildings, or join an optional excursion to the Viking burial site at Lindholm Hoje. Aalborg is also the home of Aquavit, and a visit to the distillery and museum provides another enjoyable diversion.
Day 8
Today we'll stop in Kristiansand, Norway's fifth city, on the country's southern coast. One of Norway's most popular tourist destinations, Kristiansand is renowned for its beaches and Palmesus beach festival, its thriving creative arts scene, and as the home of Norway's largest zoo.
Day 9
Today is spent at sea, making the most of the on-board amenities as Astoria cruises home.
Day 10
This morning Astora arrives in Tilbury, and it'll be time to bid farewell to the ship and her crew as you disembark.
Further Information
Passport requirements
British Citizens will need a full, 10-year passport to travel on this cruise. Since some countries require visitors to be valid for at least six months after the return date of the cruise we recommend that all customers ensure that this is the case. Holders of non-British passports should check with the relevant embassies to see if any requirements and restrictions exist for any countries visited during the cruise.
*These offers apply to new bookings made between 1st August and 31st October 2017 (inclusive) only. The price shown on this page includes any initial Saver Fare discount, but not the Buy One, Get One Half-Price discount. The exact value of the discount included will vary depending on offer, cruise, cabin and departure date selected. Discounts apply to all cabin categories. On cruises with a Buy One, Get One Half-Price offer, single cabin full fares will be discounted by 25 per cent. On cruises with a Buy One, Get One Free offer, single cabin full fares will be discounted by 50 per cent. These offers may be withdrawn at any time. All fares exclude gratuities.

On many of our cruises, a limited number of Voyager Fare Inner and Ocean-view cabins are available. Choose these and you will be accommodated in at least a Standard Twin Inner or Ocean-view cabin, but will pay only the reduced Voyager Fare price. Availability is limited, so book now to secure your discount.
View more Cruises from Tilbury
C2C Cruises act as ABTA Retail agents for both Cruise and Maritime Voyages, and Newmarket Travel who are the operators of this trip





www.c2ccruises.com, www.c2ccruises.co.uk, www.ctccruises.com, www.ctccruises.co.uk